Having a hard time deciding between a hammer drill and a rotary hammer? After all what exactly is the difference between the two tools? Keep reading and we'll take the mystery out of your decision.
Models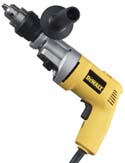 Hammer Drills Hammer Drills combine the rotation of a regular drill with a pounding action. These two actions enable the hammer drill to bore holes in masonry quickly without burning the bit.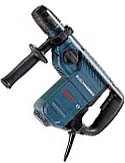 Rotary Hammers Rotary Hammers are more powerful than hammer drills. They deliver heavier hammering action and usually have a chisel only feature, for light chiseling and masonry removal. Rotary hammers also have specially designed chucks that only accept bits specifically designed to fit their chuck. The special chuck on a rotary hammer helps hold the drill bit and prevents it from slipping during use.
Features
A few features you may want to pay attention to include:
A Depth Rod mounted to the drill lets you know when the bit reaches the desired depth.

Variable Speed Selection allows you to adjust the drill for specific jobs. Use high speed for small holes and low speed for large holes.

Reverse can retrieve a hopelessly stuck bit.

Removable Side Handles give the operator better control in normal use, and can be removed in confined spaces.
Drive Systems
Two drive systems are available on both models:
SDS (or Slotted Drive System) bits for hammer drills/rotary hammers allow the bit to slide in the chuck and enhance the hammering action of the tool. For most applications, these bits provide plenty of torque.

SDS Max bits are similar to SDS bits, but have larger shanks and come in larger sizes than SDS bits. These powerful bits are useful in industrial applications.