Is your garage so full of lawn equipment, holiday decorations and miscellaneous items you have to park your car in the drive? Or maybe you have so much stuff stored in the attic that your ceilings are starting to sag. If this sounds like your home, a stylish storage shed, garden shed, or backyard barn is just the space-expanding solution you need.
Storage and Beyond
You know these barns are great storage solutions for everything from mowers to motorcycles, but here are a few other uses you might not have considered:
A custom barn makes a great playhouse.
Playhouse – You can order windows, partitions and porches to add to most barns. Use your imagination to make a garden shed the perfect playhouse for children of all ages.

Hobby or craft hut – No matter what your hobby is, you're sure to find a barn or garden shed that's just the right size for your needs. Just think, room to spread out all your materials and a private work space all your own.

Private getaway – Don't limit yourself to the backyard. Spacious design, high durability and easy assembly make these sheds and barns excellent choices for shelters at your favorite getaway. You can even order a custom loft to increase your storage area.
Storage barns and garden sheds are generally made from one of three materials: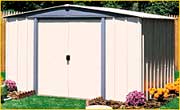 Metal sheds are an inexpensive way to add storage space.
Metal – Whether galvanized steel or aluminum, storage sheds are usually coated with a tough, baked enamel finish. These sheds come in a variety of colours and offer years of maintenance-free service.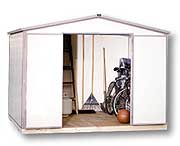 Vinyl sheds provide a durable, attractive storage solution.
Vinyl – Vinyl sheds are built with double wall vinyl panels to resist dents. The panels are made to exacting standards for a snug fit and solid construction. Many come with paintable steel doors for extra security and long service life. Best of all, the entire structure is impervious to practically all weather extremes and virtually maintenance free.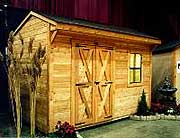 Wooden barns are available in styles to compliment your home and landscape.
Wood – Wooden barns are the most familiar and offer a traditional look to match any setting. Solid dimensional lumber framing, multiple designs and stylish siding options make these barns seem more like small houses than storage buildings.
Accessories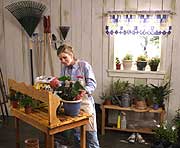 Accessorize your space to match your needs.
If you can think of something you need or want in your barn, chances are it's available as an accessory. Here are a few examples:
Ramps – A sturdy set of ramps is a must for moving wheeled power equipment or hand trucks into or out of your shed.

Windows and skylights – Natural light increases visibility and makes the space more user friendly. In most cases, you can even order shutters and window boxes to accompany your windows and further enhance the aesthetics of your barn.

Lofts – Increase the useable space in your barn with a loft. The loft is designed to allow you to park the mower underneath and still give you a solid storage platform overhead.

Shelves – Organize your tools and materials on handy shelves designed by the manufacturer specifically for your shed.

Work benches – If you plan to use the barn as a gardening or hobby shop, a good workbench is a must.
All of our barns and sheds come with easy to follow, step by step assembly instructions.